2023 Executive Breakfast: Evolving Through Collaboration
The HCC would like to warmly invite you to our 2023 Executive Breakfast series Evolving through collaboration sponsored by BMO Harris Bank. This year we offer you panel discussions, networking with peers, and engaging table discussion. Our intent is to provide you with new ideas & resources , best practices & lessons learned from experts for your evolving business/organization.
When? Tuesdays, April 4th, June 13th, August 8th, and October 10th from 7:30 – 9am.
Where? At the Missouri Athletic Club at 405 Washington Avenue, St Louis.
We are kicking off the series with "Learn to attract and retain diverse talent. What is it working? What are you missing?" with Nalini Mahadevan, Principal Attorney-MLO Law LLC. Betsy Cohen, Executive Director at STL Mosaic Project, Marcelle Pires, Global Customer Service-UNIDOS BRG National Co-Lead Bayer & Dawn Higgins, Director DEI-Nestle Purina.
If you have any questions, reach out to Maria De Gregorio, Business Counselor, at mdegregorio@hccstl.com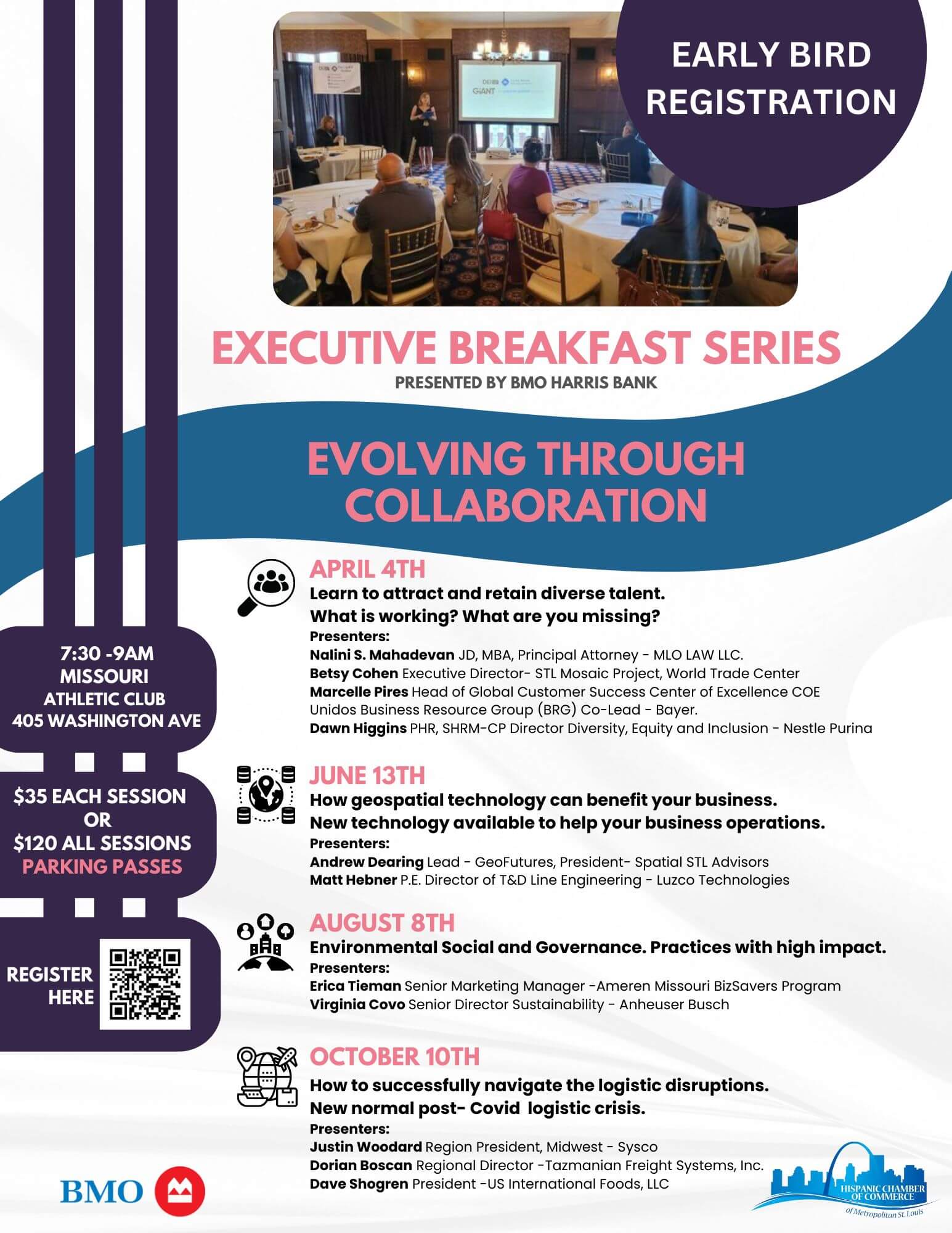 2022 Executive Breakfast: The Evolving Workplace
This April we proudly launched a new program, The Evolving Workplace executive breakfast series, presented by the SLU Chaifetz School of Business.
The purpose of the series is to offer executives networking with peers, keynote presentations, and engaging table discussion.
The topics are designed to provide attendees with new ideas and resources for their evolving business.
We kicked off the series with Judy Ryan, CEO of LifeWork Systems presenting "Steps to understand and implement a responsibility-based workplace culture".
In June Laura Scheidhauer, President of LHS Consulting LLC spoke about "The CURE mindset: Establishing your baseline for inclusive leadership".
This series has ended but will resume in 2023. Keep an eye out in our website and social media for more information about next year's breakfasts.
If you have any questions, reach out to Maria De Gregorio, Business Counselor, at mdegregorio@hccstl.com
Photos of our previous breakfasts