Monthly Facebook segment in Spanish. It consists of a 20-25 minute interview where small business owners members can talk about their experiences of being Hispanic or Latino, how to start a business, lessons learned, or an area of expertise related to their business and/or profession.
For more information contact Miguel Rincand, Digital Content Specialist, at mrincand@hccstl.com
Episode 14 con Diego Abente, Presidente y CEO de Casa de Salud
Episode 13 con Gabriela Romero de Lindenwood University.
Episode 12 con Isabel Acevedo de Donald Danforth Plant Science Center.
Episode 11 con Isao Salazar Representante de ventas de FastSigns
Episode 7 con Sonia Granados de H.R.C Consultants LLC
Episode 7 con Sonia Granados de H.R.C Consultants LLC
Episode 3 con Raffi Mikaelean de PCs for
for People - March
Episode 6 con Ricardo Martinez, Fundador JA

Episode 5 con John Wicks, CEO of Commercial Language Solutions

Episode 2 con Jaclyn Noroño de BCI
Episode 4 con Carlos Zamora de CARTEL Strategies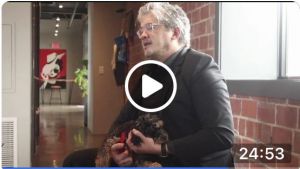 Episode 1 con Natalia Corray de MBC